Buy Green: A New Car Is A Green Car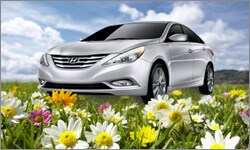 Many car buyers are shifting to smaller, more fuel-efficient vehicles. As Consumer Reports points out in a recent issue: "The best way to burn less fuel is to buy a car that gets better gas mileage."
Any time you buy a vehicle - new or used - that gets better gas mileage than your present one, you're making a green move. Simply put, better fuel economy means lower greenhouse gas emissions. That's why "A New Car Is a Green Car" is the theme of the National Automobile Dealers Association's Green Campaign.
While hybrid sales are soaring, green vehicles are not limited to hybrid technology. Dealerships across the country also sell fuel-efficient gasoline cars, diesels and flex-fuel vehicles. In fact, there are more than 100 gasoline models with EPA-estimated highway ratings of 30 mpg or more in showrooms right now.
Well before $4 gas, auto dealers across the country began making their stores more ecofriendly. Not only do these efforts save money, they also draw in more green-minded customers and help rid the world of tons of greenhouse gases. With dealers investing nearly $1 billion in energy-saving updates so far, the move toward green dealerships has all the markings of an industry-changing trend. Read about this billion dollar makeover.
Buying a green vehicle from a dealership that has taken steps to reduce its carbon footprint has its appeal. In fact, 30 percent of consumers say a company's environmental practices impact their decision to do business with it, according to a 2007 survey by the Natural Marketing Institute. And as more dealerships go green, they will begin to better reflect the products they sell - light on energy and friendlier to the environment.

Sales Facts & Figures
Soaring gas prices helped hybrids take 3 percent of light-vehicle sales through May 2008, increasing from 2 percent during the same period in 2007. The overall light-vehicle market fell 11 percent. Hybrid sales should top 375,000 units this year, up from 350,000-plus.
Bill Marsh Body & Paint Center Invests In Green
Major Renovations Completed at Bill Marsh Body & Paint Center
The Bill Marsh Body and Paint Center underwent renovations that were described as revolutionary in the body shop industry. These renovations will result in higher quality body shop work, quicker turn-around times, significant reductions in energy use plus will allow the use of water-based paint instead of the current solvent-based paint that is currently the standard of the industry.
"This is one of the most dramatic changes taking place in the auto body repair industry that we've seen in decades," says manager Ron Grigal. "We are going to lead the way in state-of-the-art changes in body shop repairs."
Thanks to a $400,000 renovation and cooperative support with PPG Paints and Thirlby Automotive, Bill Marsh became the first body shop in Northern Michigan to use a high performance water-based vehicle paint with a system that is expected to use up to 35-percent less energy.
Grigal says the industry is heading toward the use of water-based paint, but because of the expense there is reluctance to make the change. "We're not only going to make the change now, we're going to do it enthusiastically," says Grigal. He says the customer will be able to have his car in the shop for less time, and when it gets out the quality of the job will be dramatically improved.
"It's cleaner, faster and allows us to do higher quality repairs," says owner Jamie Marsh. The new process is expected to cut the use of toxic materials in half, while at the same time increase capacity by 50-percent.
The use of water-based paint is currently mandated in both California and Canada and Grigal says Bill Marsh is not going to wait and see if Michigan gets around to making a similar mandate. "We are going to lead the way in Northern Michigan," he says.
Bill Marsh Body and Paint Center is the largest, most advance paint shop in Northern Michigan. It is also be the most eco-friendly shop in the region.