At Bill Marsh Hyundai we offer the CNA Extended Service Contract as well as service contracts backed by the manufacturer. Below you can find more information on both types. Please be aware this page does not cover the full extent of your extended service contract.
CNA Automotive Preferred Care
CNA offers up to a 10 year, 100,000 mile extended service plan.
Comprehensive
Comprehensive covers the following parts.
Engine
Transmission
Drivetrain Assembly
Suspension
Steering
Brakes
Electrical
Air Conditioning and Heating
Fuel System
Cooling System
Interior Electronics
Powertrain Electronics
Convenience Accessories
Vehicle Hardware
Sport Package
If the vehicle you have purchased is a sport utility, van or truck, the following parts are also covered. Coverage is limited to these listed parts:
Body Accessories: Step bumpers and mounting brackets, spare tire carrier, spare tire swing arm and its pivot latches and locks, running boards, swing away-mirror arms and mounts, pop-out or sliding side/rear window latches and hinges.
Convenience and Utility: Bed liner (except warpage), rail protectors, tailgate handle, tailgate lock and cables, tailgate hinges, and latches, tailgate edge protectors, cargo tie-down, cargo lamp, gun rack and tool box.
Four-Wheel Accessories: Locking hub assembly (except damaged or worn brake rotors) skid plates, tow hooks, power winch motor and remote control wiring harness, power winch rollers, brush guards and headlight grills.
Trailering: Trailer hitch receiver, insert and wiring receptacle, bed-mounted fifth-wheel hitch, auxiliary fuel tank and its cut-over switch, running light bodies and lenses.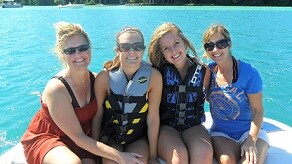 Expense Reimbursement Package*
Rental Car: If you can't drive your vehicle due to a breakdown and it must stay in the shop overnight, CNA will pay you for the cost of a rental car from a licensed rental agency. The limit is two hundred forty-five dollars ($245) not to exceed thirty-five dollars ($35) per 24-hour period. You must incur this expense between the date of the breakdown and the date that covered repairs are completed.
Towing: If you can't drive your vehicle due to a breakdown, CNA will pay you for towing charges that are not reimbursed to you by any road club, insurance policy, or by your vehicle manufacturer's warranty. The limit is one hundred dollars ($100) per occurence.
Manufacturer's Warranty Deductible: When a breakdown is also covered under a warranty issued by the manufacturer or your vehicle, CNA will pay you for the required deductible. The limit is one hundred dollars ($100) per occurence.
Emergency Road Service: CNA will pay you for road service labor charges performed at the scene as required to rectify emergency situations involving your vehicle, such as: out of gas, flat tire, keys locked in car, battery discharged, door locks frozen or accessory drive belt failure. The limit is fifty dollars ($50) per occurence.
Travel Lodging: If you can't drive your vehicle due to a breakdown, are stranded overnight and covered repairs are completed more then one hundred (100) miles from your home, CNA will pay your for lodging and meails. You must incur these expenses between the date of breakdown and the date that covered repairs are completed. The limit is two hundred twenty-five dollars ($225), not to exceed seventy-five dollars ($75) per 24-hour period.
*State restrictions may apply.
Specialty Option Package (Optional Surcharge)
Coverage limited to these listed parts:
Enhanced Electronics
: Rain-sensing wiper sensors, near object avoidance transmitter and receivers/sensors, proximity pass key and sensor, rear view camera, intelligent cruise-control transmitters and sensors, rear compact disc player, rear audio system, and electronic video game. (Coverage for all electronic components is limited to base units only. There is no coverage for remotr controls, hand-held devices, wiring, cassettes, compact discs, DVDs or game cartridges, Component replacements are limited to one occurence.)
Supplemental Cooling: Evaporator, expansion valve, blower fan motor, control switch.
Conversion Van: Power captain's chairs and sofa bed (limited to motors, switches, transmissions), auxiliary or indirect lighting fixtures and switches, conversion window latches and hinges, fold-down or fixed tables, cabinet hinges, latches and handles, roof ladder, roof storage rack, metal or fiberglass spare tire cover.
Recreational Equipment: Fresh water tanks, lines, faucets, pump, inlet and sink, stove and/or oven unit and their LP gas bottles, regulators, lines and fittings, microwave oven.
All components must have been installed in your vehicle at the time of purchase by a licensed company. Damage from contaminants, dirt, dust, or foreign objects is excluded.