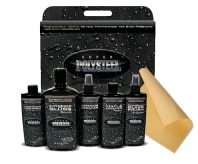 Owner Shield is a appearance and protection product that requires a one time application of  paint and interior sealant on both the exterior painted surfaces and interior fabric and leather surfaces. 

Here are a few of the benefits you'll receive with Owner Shield Protection:





Up to $2,500.00:

Total Coverage for 3 years on pre-owned and 5 years on new vehicles.





Exterior Protection:

Against paint fading, chalking, acid rain, and tree sap.





Interior Protection:

Against everyday spills, fading, and soiling.





Added Value:

Anytime you improve the appearance and add protection to your vehicle, you are actually adding value.  This is especially important at trade-in time!





Free Gift:

You will receive a free gift of 5 different car care products.  Although this is not required, you can use these products to keep your vehicle looking new.