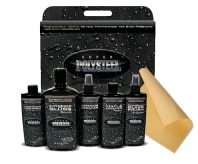 Owner Shield is a appearance and protection product that requires a one time application of  paint and interior sealant on both the exterior painted surfaces and interior fabric and leather surfaces.  
Benefits of Owner Shield Protection
Up to $2,500.00
:
Total Coverage for 3 years on pre-owned and 5 years on new vehicles.
Exterior Protection
:
Against paint fading, chalking, acid rain, tree sap, oxidation, Water Spotting on chrome, Bird Droppings, Fading or dulling of Headlight lenses, Brake Dust Staining on Aluminum Alloy Wheels, Insects and more!
Interior Protection:
Against food/drink stains, ultraviolet fading/cracking, soiling, chewing gum, loose seam stitches, pet stains, crayons, burns, punctures, rips and tears.  Protection against damage to leather by environmental conditions causing fading and/or discoloring and cracking of the dashboard.
Windshield Protection: 

Treatment contains a unique bonding agent that chemically bonds to the glass surface.  Fusing at the molecular level, it creates a hydrophobic and protective coating by capping the glass pores and its surface ridges.  Repair or Replacement of any chip or crack caused by propelled small rocks or stones while driving on public highways, streets or roads.
Minor Door Ding: 

Permanently removes door dings and minor dents without disturbing the factory paint finish by using specialized tools to gently push the dented metal back to its original form and position.




Added Value:
Anytime you improve the appearance and add protection to your vehicle, you are actually adding value.
Free Gift:
You will receive a free gift of 5 different car care products.