In the very dark, hushed corners of the room, you might think there would be plans drawn up for a revolution. That is the feel of the
Redcoat Taver
n in
Royal Oak
. The plans are not for overrunning the government, but rather to build the best burger that will attack and capture your taste buds.
The "Original Redcoat Special" leaves the creation of your burger up to you. There's a huge selection of toppings including many of your favorites like thick-cut bacon, a wide selection of cheeses, grilled onions, olives, what they call a "zip sauce" and much more. The toppings are generous and tasty, but the real star of this burger is the meat.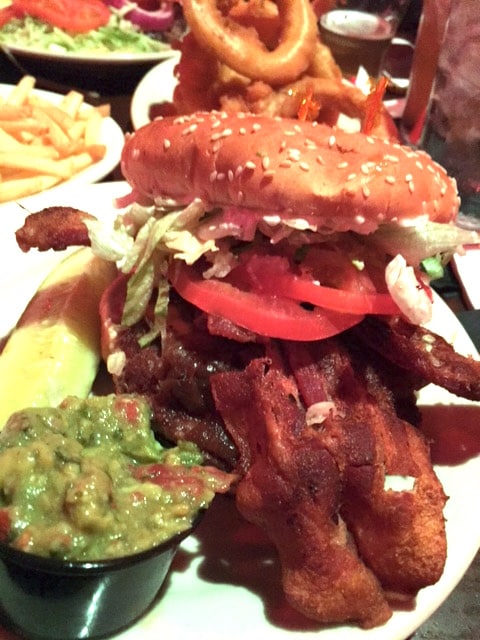 The burger is made from a proprietary blend of meat. It was cooked to perfection and full of flavor. We filled our burgers up with loads of toppings but you really don't need to do that. Pick your favorites but keep it simple. This is a big, filling burger! Even with everything we loaded on this burger though, the flavor of the meat popped and was never lost or overpowered. The bacon was thick and crispy and certainly did not taste average. We both got Gouda cheese and it was clearly off a wheel and had a wonderful taste.
The one downside to this burger is that the meat was frozen. We are told that they go through so much in a day they need to freeze it in advance. But really, I don't think we would have noticed the difference.
As for the rest of the meal, we shared both fries and onion rings. The fries were good, while the rings were great. They had an extensive beer selection and Maggie enjoyed a unique beer called
Namaste.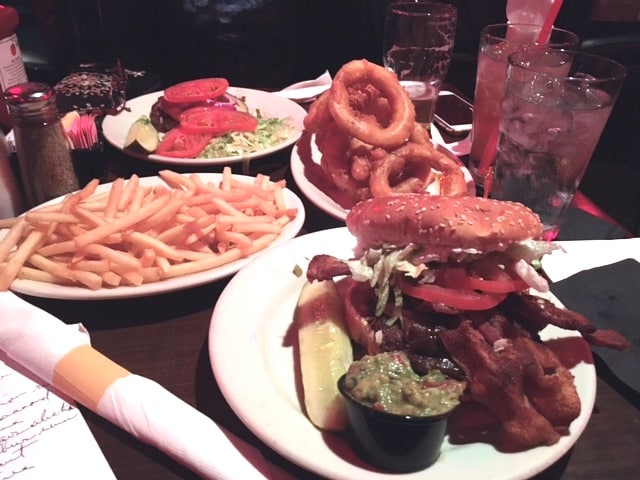 We came to the Redcoat Tavern on a Saturday long after normal lunch hours, but the place was hopping. And we were told that this was a "quiet" day!
This tavern opened in 1972, long after the revolutionary war. The history of the place was especially important to one customer we ran into from the Virgin Islands. Apparently he worked at the Tavern some 40 years ago. He said it was just as dark then as it is now, and the food is just as good.
No need to start a revolution over this burger. The Redcoat Tavern in Royal Oak has every right to be on Thrillist's list of The 22 Best Burgers in Michigan. No doubt, they've also made our top 22 list. The burger is worth the trip, and you may want to bring a flashlight and maybe even a few revolutionary thoughts.