Our quest for the best burgers in
Michigan
has taken us to many locations where the story of the place was perhaps just as interesting as the burgers they serve. The
Bridgewater Bank Tavern
is a tale of transition. Here is a building that transitioned from a bank, to a topless go-go dance club, to a tavern that serves up what we consider one of the top five burgers in Michigan.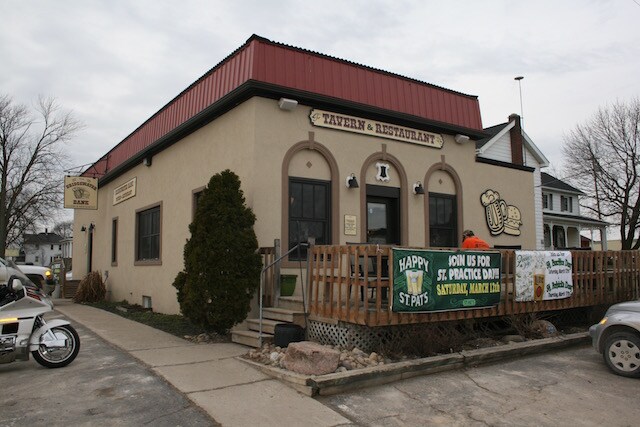 This tiny town of less than 2,000 people that is not far from the community of Chelsea in south-central Michigan. It was steeped in controversy during the 1970's. The owner of the business got a license to provide entertainment at the bar. Before the community knew what was happening, the tops were coming off and go-go dancing was bringing in folks from throughout the region. The new entertainment was not well received by the town leaders and within a few months the tops were forced back on.
Today it's a different story. I mean the tops are still on. But this little tavern has clearly become a gathering spot for the community. And
Thrillist
plucked it out as serving up one of the top 22 best burgers in Michigan. It only took Maggie and I one look and one bite to realize these burgers are some of the best we've had on our quest.
Maggie ordered the steak burger and when it arrived with three full-size onion rings on top, the big question she had was how in the world do you begin to eat this thing. It was huge. My burger was the sunrise burger that was topped with a fried egg and plenty of thick-cut bacon.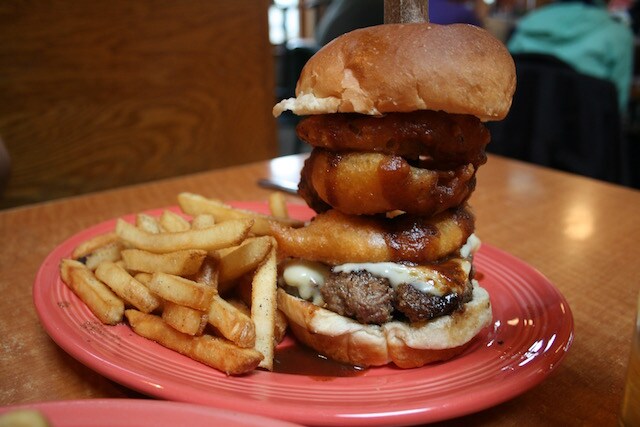 The burger was a half-pound thick and really juicy. The owner, Sarah, says the secret is to have meat that is always fresh and never frozen. And they didn't ignore the bun, as so many of the burgers we tasted seemed to do. The bun was a really fresh Kaiser roll that is made by a local baker and filled with flavor.
The meal was filled out with fresh-made potato chips and piping hot french fries that were nicely seasoned. Even the pickle seemed to be extra crispy. Top it off with an ice-cold craft-brewed beer and really friendly wait staff and this burger experience was outstanding.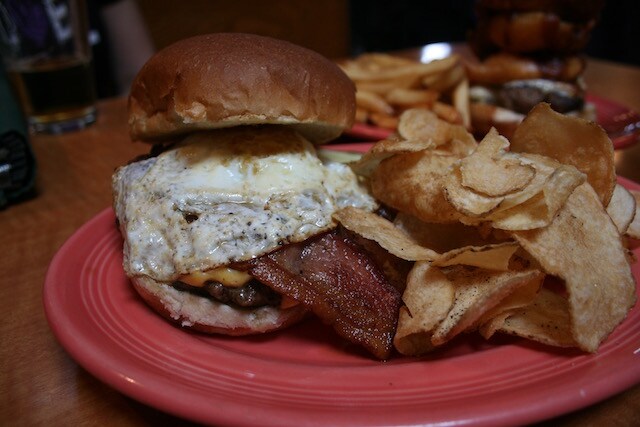 Here is a place we would go out of our way to revisit in order to try some of the other burgers on the menu. We now have only five more burgers to taste from the Thrillist top 22 burger list and we have to believe that Bridgewater Bank Tavern should be at least on our top five best burger selection.
Get here hungry and enjoy every last bite of these burgers. But make sure you keep your top on. We don't want to revisit that chapter in the history of the Bridgewater Bank Tavern.