On our
burger quest
, we've been to several restaurants that lay claim to
"the best burgers in Michigan"
according to one publication or another. But
Motz's Burgers
in Detroit has another claim: "the #1 burger
in the world" --
as voted on by... their own employees. Who can possibly argue with THAT source?
Certainly not Maggie or myself.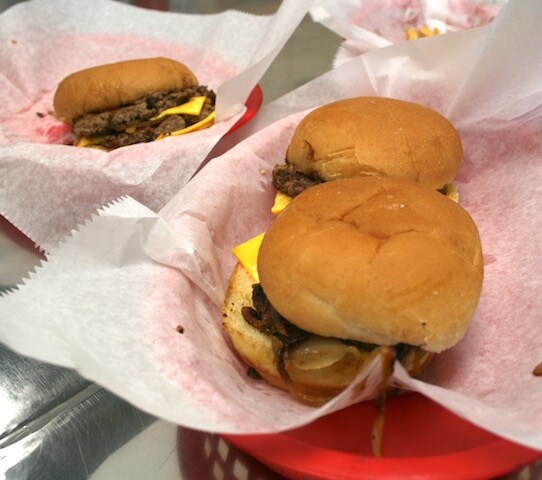 We came to Motz's for the sliders. We left with an all-around good feeling and a brief history of the place.
If you've ever had a slider at a White Castle, this place will have a familiar feel to it. It starts with the grill that sizzles before your eyes and row after row of hamburger patties slathered with mounds of fresh onions.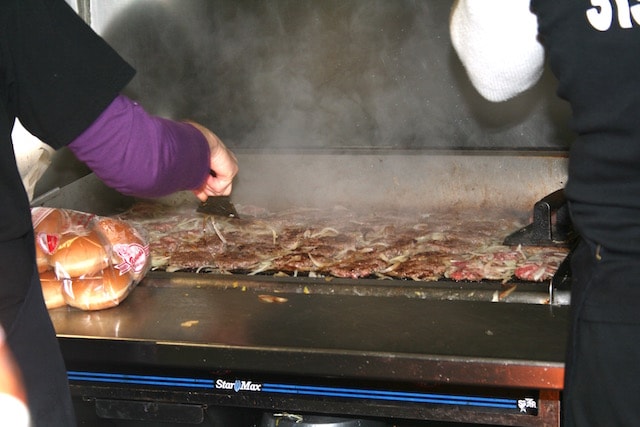 There's a good reason this has the look and feel of a White Castle, because, many years ago, this was a White Castle. Motz's have been around for 87 years! But when America entered World War II, finding a good supply of ground beef became difficult for the hamburger chain and this was one of the locations they sold. Since reclaiming the location, the same seasoned iron grill has continued to churn out Motz's special brand of sliders.
The grill may have stayed the same over the past 87 years, but the neighborhood has certainly changed. It's a gritty area now. And the burgers have certainly changed, because this is definitely not a White Castle slider!
Motz's developed their own source for meat, and even today, that source is a deep secret. According to Bob, the husband of the owner, they have to keep it secret because when the word got out in the past, the 'ma and pa source' of the burger could not keep up with the demand.
Motz's uses hamburger that is 18% fat and it's that fat, combined with the onions, that gives their sliders a wonderful flavor.
We got our order in just in time -- just after we ordered two regular cheese sliders and one double cheese slider, we heard the cook say they were down to their final six patties. The sign went up on the door that they were sold out of burger.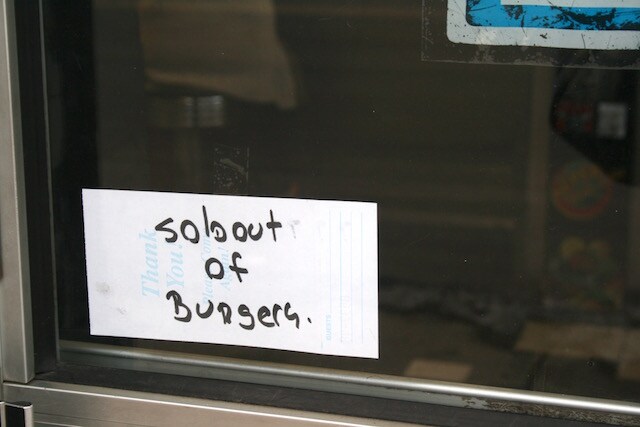 Bob says it happens occasionally because they want their burger fresh. He also knows his customers, because he takes the time to talk with them. He knows they like to see how the burgers are made right before their eyes. It's a tiny restaurant with seats for 13 people, so you are always within easy sight of your fresh-made patty.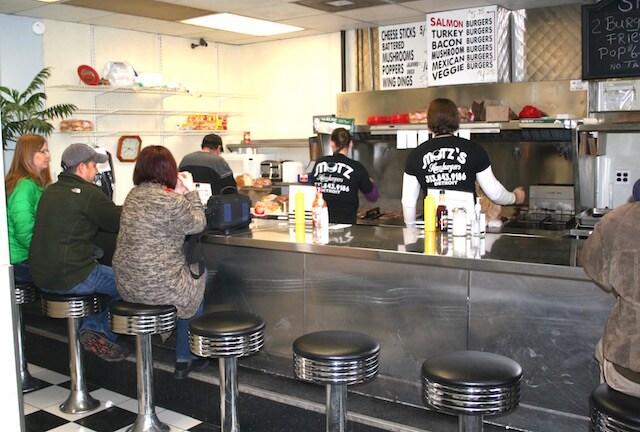 While it really didn't take that long for our burgers to be made after we placed the order, Bob says he likes to slow down the process so there is a perfect melding of flavors between the beef and the onions. If it took a little longer, it would still be well worth the wait!
Motz's sliders are served hot and moist. The cheese oozed into the mixture of meat and onions and the steamed bun was perfect. It was a simple recipe for a flavorful slider. Lucky for us, by the time we finished our order, no one had claimed the remaining six burgers so we were able to refill the order and enjoy a second helping!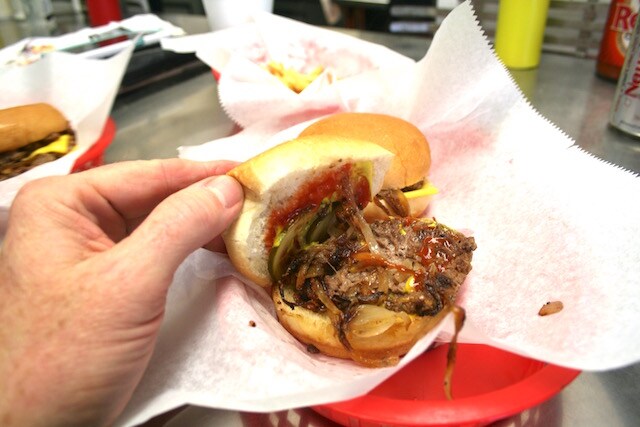 Bob mentioned that he likes his customers and enjoys talking to them. When you mix a great burger with wonderful hospitality, you can see why Motz's made the
Thrillist
's list of the 22 best burgers in Michigan. Is it the best in the world? Not sure Maggie and I will have the time to fully explore that claim — but it sure could be.