With 17 burger joints (quite literally) under our belts in the course of a year, we have progressed to becoming somewhat of experts on the
Thrillist Top 22 Burgers in Michigan
list. The places on the list are said to be the best burger dives in the state so you can understand our righteous indignation when we entered
Roast
in downtown Detroit. We sat down to a table with clean and pressed white linens. Really? Can you have a "burger joint" with pressed linens?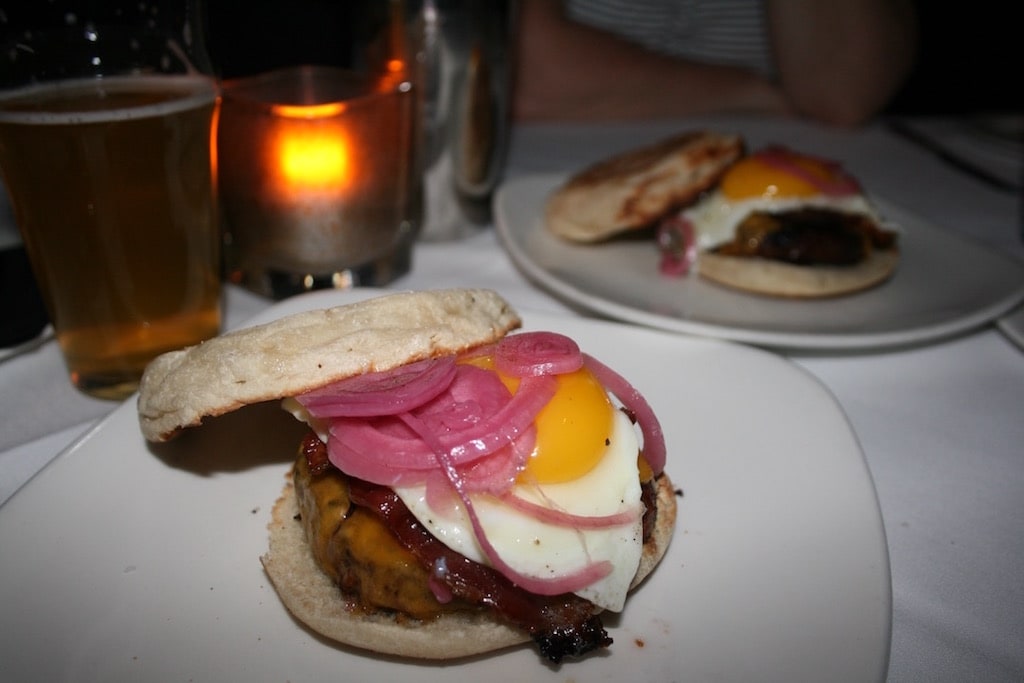 Roast is a far cry from the tiny holes-in-the-walls like
West Pier Drive In
or the joints rich in character and history like
Frank's Eastside Tavern
. This place is attached to the Westin Hotel in downtown Detroit where valets are quick to whisk your car away to a parking garage. It's even guarded by a statue of Major
General Alexander Macomb
, a hero of the
War of 1812
.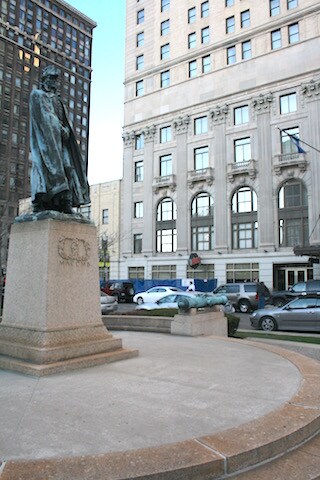 But when you strip this place of all its fancy glory, can it really serve up one of the best burgers in Michigan? The Roast Burger was on our list to try and it is truly unique to anything we've tasted so far. The hamburger patty comes with thick-cut bacon, pickled onions, a fried egg, all on top of an English muffin. They are simple ingredients, but when combined, they make for one of the most flavorful burgers we've enjoyed on this quest!
The meat was clearly the most distinct we've encountered. It's aged beef that is fresh-ground in-house with a mixture of short rib, New York strip and other meats from a variety of cuts in the kitchen. It's flame-grilled over a wood fire that leaves the meat crispy on the outside but very moist on the inside, and is seasoned with salt, pepper, and a bit of rosemary. The toppings add to the unique flavor, especially the pickled onions. The first bite resulted in the combination of beef juices and fried egg yoke dripping down the chin. Even the English muffin "bun" helped make this burger distinct. The only down side was that Maggie's burger was a touch overdone and should have been a little more rare. But even with that, every bite of this burger was just as good as the first bite!
We added french fries to the meal and even those had a special kick. The fries were seasoned with fresh rosemary and this made for just a little extra flavor twist.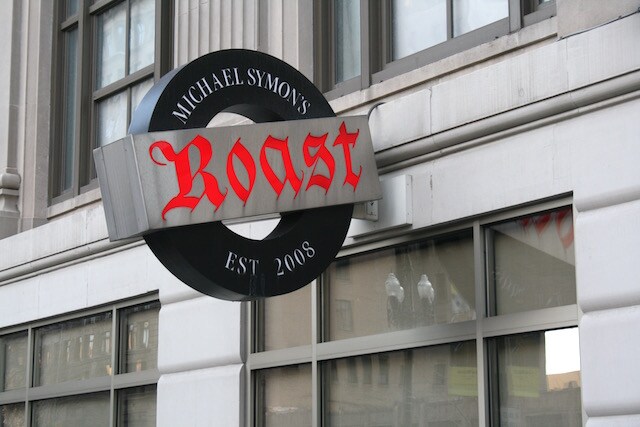 Roast is clearly not a traditional "burger joint" - it doesn't have the unique setting that many of the other Thrillist locations had, or the fascinating character. Unless you are here at happy hour, this is not a place you are going to go for a cheap burger. But it has one thing going for it - Roast has a really good burger. A burger, we suspect, you will find nowhere else in Michigan.