Halfway through our Great Burger Quest, one thing has become very clear. Checking out the 22 best burgers in the state, according to
Thrillist
, is much more than checking out the taste of 22 hamburgers. Clearly the picks on this list are just as much about the story of the place itself as it is about the taste of the burger.
Frank's Eastside Tavern
has a really fantastic story.
Drive slowly through the
Mt. Clemens
neighborhood when you're looking to find Frank's Eastside Tavern. This place is located in a residential neighborhood and this tavern is in the basement of a house. You could easily miss it, thinking it's just another home. Once you find it, you'll discover that it's a wonderful place combining history and great eats!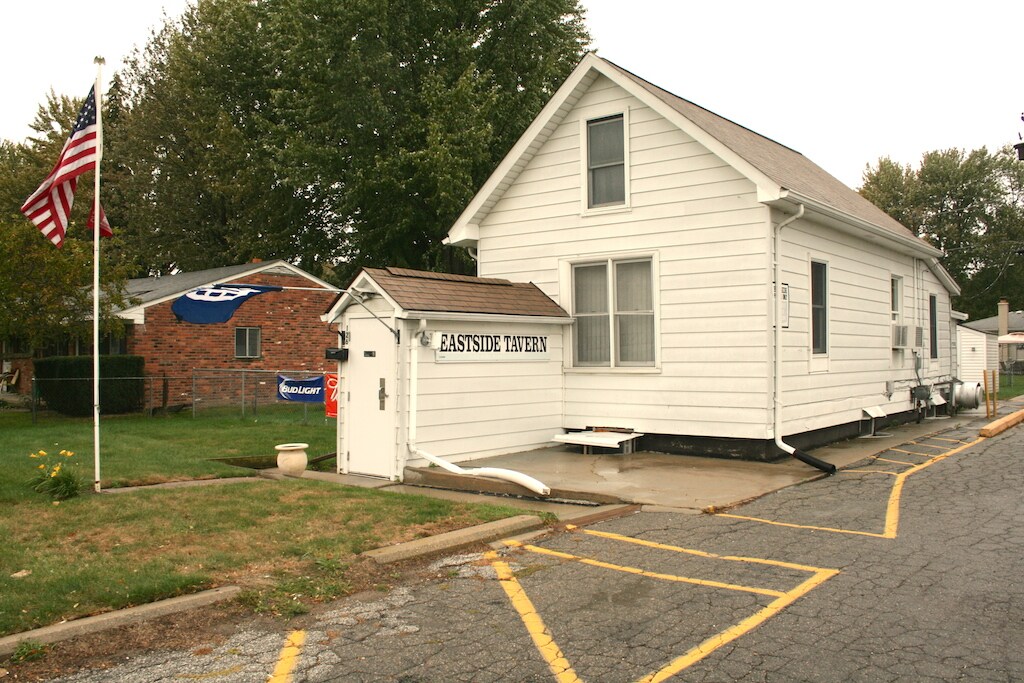 Walk into the basement of the house, but watch your head. If you are over six-feet tall, you'll bump the ceiling. And don't go upstairs because the 80-year-old owner, Frank, calls that floor home. Eastside Tavern has been in the family from the start. It has a rich history that includes a short stint as a speakeasy during prohibition. You can still see photos on the wall from a news clipping where Federal Agents found and destroyed the illegal booze.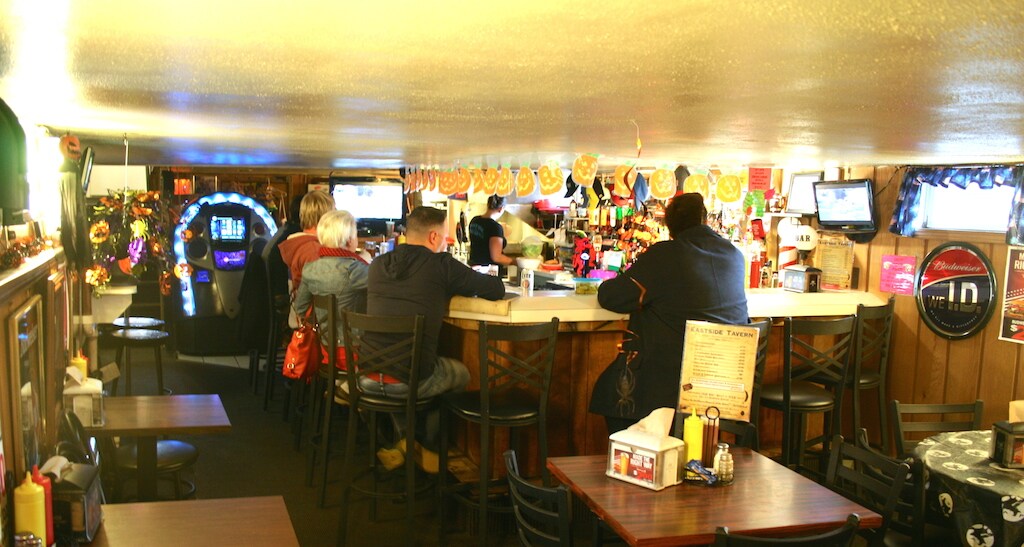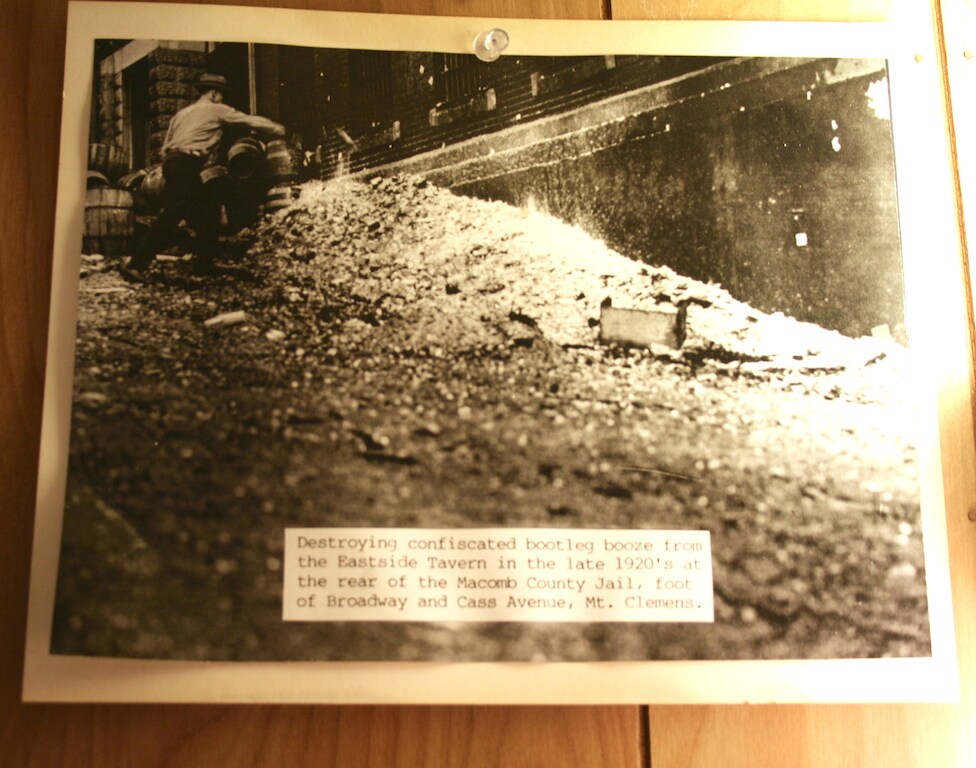 Federal Agents weren't the only ones who found this place -- one sitting US President also traveled here to enjoy the food! George Bush Sr. and his wife, Barbara, came to the Detroit area and when they arrived at Selfridge Air Base, they looked for a good place to have a burger. They were directed to Frank's. The Secret Service took control of the building and Frank's took control of the food.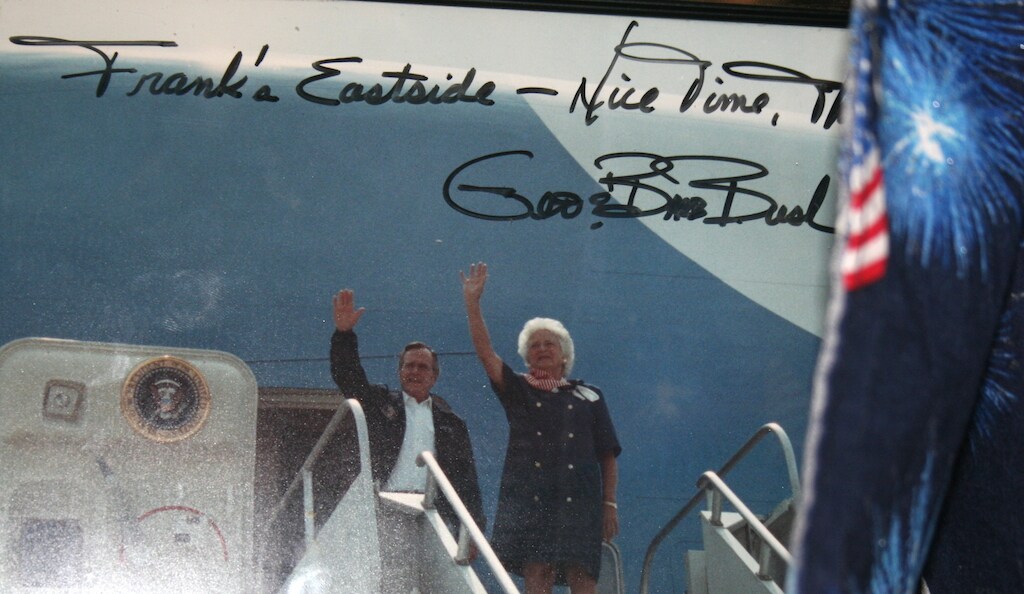 This is a true neighborhood sports bar, but due to the short ceiling, you won't find any massive big screen TVs. There are a handful of small TVs that fit nicely into the space instead.
The menu is very small, too. As the sign says on the wall, "If you want it your way, go to Burger King." You'll need to be happy with the burgers, fried bologna sandwiches, hot dogs, a BLT and not much more. Don't expect to order french fries -- they don't have a fryer. They do have what they call a "salad bar," but the rest of us would call it a Tupperware container of pepperoncinis.
Maggie and I both have fond memories of fried bologna sandwiches and they looked great. But that's not why we came here. We came for the burger. Oh my, and what a burger it was!
The burger is fresh and ground daily from
Stahl's
, a meat shop just a few blocks away. The size is determined by the size of the hands of the person who formed the patties. Ours had to be someone with big hands. It was at least a half-pound. And it was delicious. The burger was thick, juicy and flavorful. It had a hint of spices that helped deliver the flavor. Toppings come at an additional cost, but they were only 25-cents extra, including grilled onions or bacon.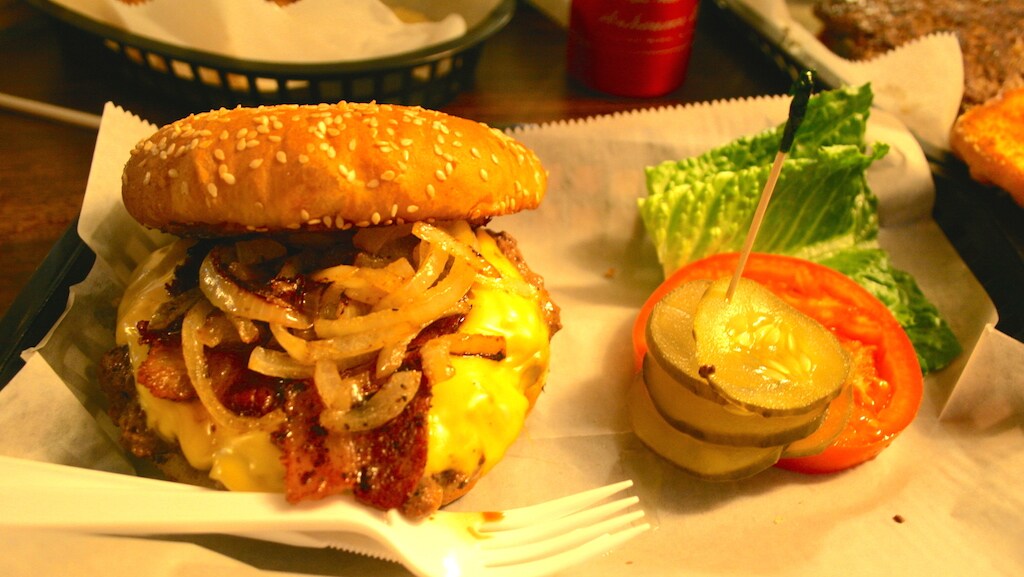 Our waitress was Jen, but that isn't fully accurate. Jen was really everything. She was the bartender, chef, server, keeper of the local characters, entertainer and historian. The size of the place requires you to make yourself at home and make peace with your neighbors. It was friendly and warm.
We've reached our midway mark with Thrillist's list of top 22 burgers in Michigan and Frank's Eastside Tavern quickly became our favorite burger so far. And again, it's more than a burger. The combination of story, atmosphere and burger makes this place fantastic. Now we need to go back and try that fried bologna sandwich!