This place is a dive. And at the
Bronx Bar
in
Detroit
they take great pleasure in that title. Bronx Bar makes many appearances on best dive bar lists in the area. It's a neighborhood bar with few frills, but has cheap beer, a pool table and, most important for this review, good food.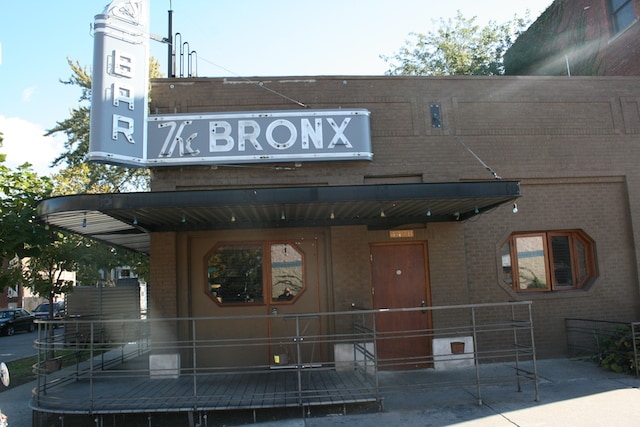 Located on Second Avenue, this neighborhood bar is sandwiched between
Wayne State University
and the
Detroit Medical Center
in what appears to be a revitalized Detroit neighborhood. The art deco sign over the building speaks to this bar having a deep history in the City of Detroit. When we were there, the crowd was a young one that appeared to be there as a result of the Wayne State proximity.
Not a huge bar and not a huge number of craft beers, but Bronx Bar still has a good selection. I couldn't help but notice that the bartender actually knew and practiced the proper way to "build" a
Guinness
. (For those of you who don't know, it's not just a matter of pouring it into a glass, but a multi-step process that gives the brew time to develop a proper head and milky richness.)
The Bronx Bar burger is pieced together with the same time and care that it takes to build a proper Guinness.
Thrillist
called it ".
..a burger the size of your face..."
But it was more than just a big burger. It was nicely seasoned and had a wonderful flavor. What made this burger really stand out was the bun. The same thing that caused us to challenge many of the burgers on Thrillist's
The 22 Best Burgers in Michigan list
, the bun at the Bronx Bar is different. The bun is soft on the inside and crispy on the edges. It almost has the flavor of ciabatta bread. "This was the best bun I've had!" says Maggie.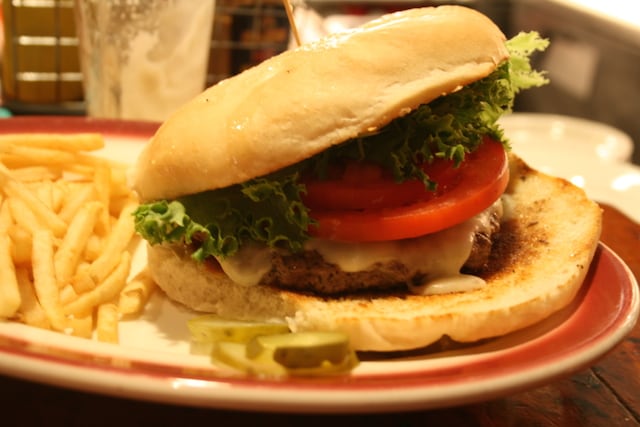 Maggie was also hooked on the thin-cut fries, cold beer and the friendly attitude of the cook and wait staff.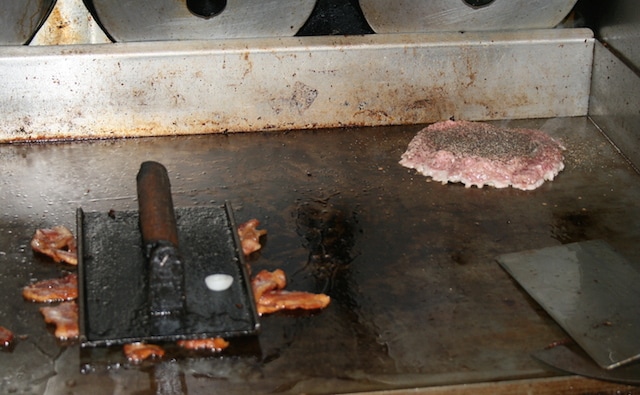 The Bronx Bar seemed to fit right in to its neighborhood. The place was in the same spot years ago when the neighborhood was ripe with the seamier side of this hardscrabble blue-collar city. It now thrives in a revitalized neighborhood that attracts a diverse crowd, including the new hipsters and college students.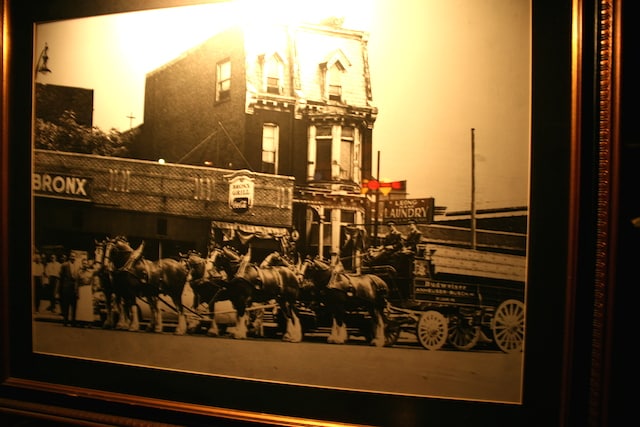 Read about the other burgers we've tasted on our Great Burger Quest:
Spikes Keg O' Nails
Stella's Lounge
Tally's Log Cabin Bar
The Torch
Clydes
Blimpy Burger
West Pier Drive-In
Sidetrack Bar & Grill
Schlenker's Sandwich Shop
Jozwiak's Bar & Grill
Frank's Eastside Tavern