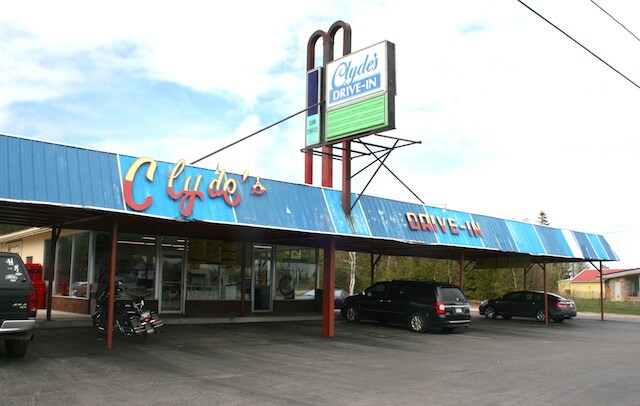 Let's begin at the end.
Leaving
Clyde's
with a belly full of burger, I ran into a guy heading to a huge fifth wheel trailer that I swear was big enough to house the
MSU marching band
and still leave room for half of the
U of M band
. He says, "That's the best burger in the state. I have to stop here every time I pass near the area."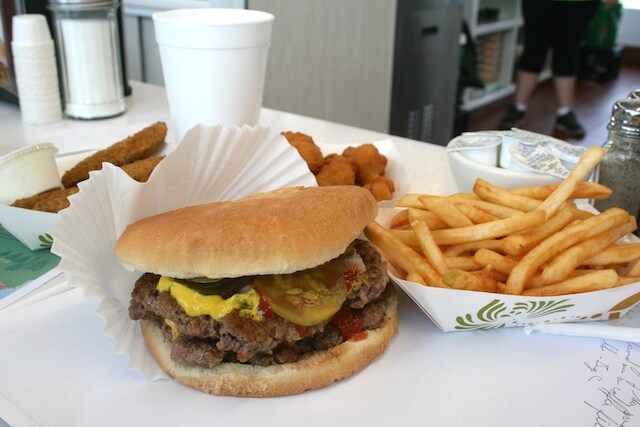 Well, we are not sure -- yet -- if it is the best burger in the state, but we concluded that it has every right to be on
Thrillist's list of The 22 Best Burgers In Michigan
.
Clyde's is one of only two burger joints on the list that Maggie and I have been to in the past. It's in a prime location for anyone making the trek up north along the I-75 corridor, just off the Big Mac bridge in
St. Ignace
and a convenient place to pick up some food.
Although we've been to Clyde's, we've never ordered "The Big C." And Thrillist demanded we have The Big C. But realistically, who can actually eat a 3/4 pound, two patty burger, served up on the finest coffee filters that money can buy? But Thrillist made the demand so Maggie and I need to follow the rules.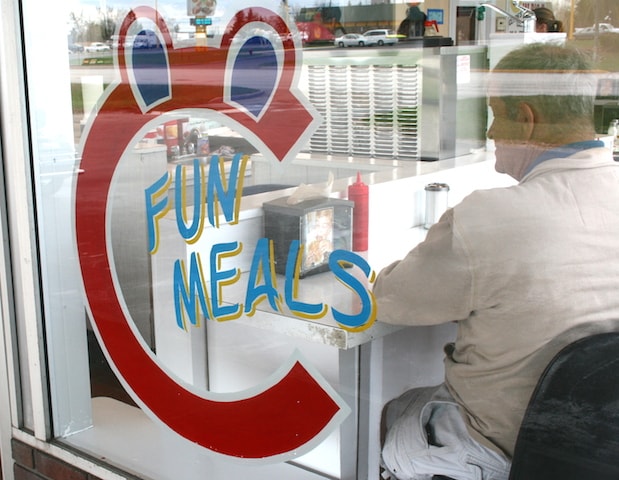 First you realize the atmosphere is all part of the charm to this burger. The Big C is the definition of a classic burger. This burger experience starts with a building that is a classic drive-in. You can pull your car into the drive-in bay and have your food served on classic drive-in trays by people who are just -- classic. The only thing missing was the beehive hairdo.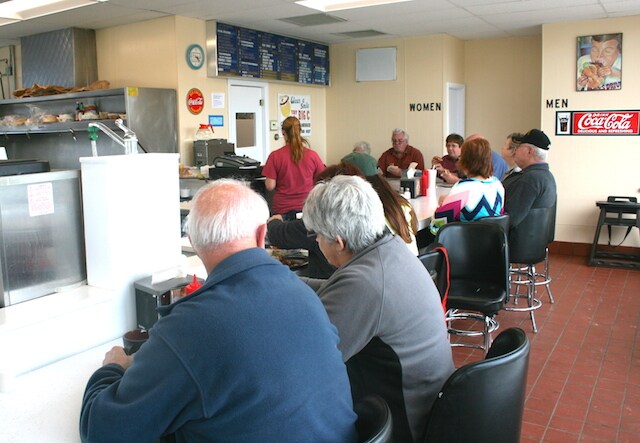 If you choose to eat inside, there are about a dozen stools that witness an atmosphere that is augmented by the crackling sound of fries hitting the grease and burgers sizzling on the grill. Your eyes spy huge mounds of freshly ground hamburger and you realize there may be other things on the menu, but this really is a burger joint. It's not a place to go for chicken, or salad -- sure, you may add deep fried cauliflower, deep fried pickles or deep fried mushrooms -- but this is a true burger joint.
Clyde's has plenty of experience in how to use a grill to make a great burger since they've been doing it since 1949. And it sure looks like they have put that experience to good use.
Although we were skeptical about consuming a 3/4 pound burger, we both did it justice. A sign on the wall says, "
Wear a smile, try a Big C!"
When Maggie and I walked away from our stools, we both had smiles on our faces.
The burger was juicy and flavorful. The bun was really just a white bun, but it was fresh and it did a masterful job of sopping up the juices and flavor of the meat.
The best burger in the state? Not sure we can make that statement yet. But it really was a good burger and well worth the stop when traveling near St. Ignace.