Any Seinfeld fan knows the
"Soup Nazi"
is not someone to mess with. One swish of the hand and the bitter
"No soup for you!"
puts you in soup hell for one year. When you hear about Ann Arbor's
Krazy Jim's Blimpy Burger
, one of Thrillist's
22 Best Burgers in Michigan
, you are left with the same fear. There is a special etiquette for how to stand in line, how to order, when to order, and whatever you do... don't tell the deep fry guy what kind of burger you want. He only wants to know what you want fried. Sounds intimidating. Really, you don't want to be banned for one year, right?
We never experienced the infamous Krazy Jim's attitude, though. Maybe it's because we
read about the etiquette
before we arrived or maybe it's just because it was mid afternoon, in a
university town
, in the summer and it was slow. But we successfully got our order placed without being cast out into the fire pit of the
"You ordered the wrong way, dummy!"
alley.
Krazy Jim's is in the middle of downtown Ann Arbor. It's a small diner with a bold claim that they can serve your burger in over 2-billion combinations. They even share their
calculations
on their website (only in a University town.)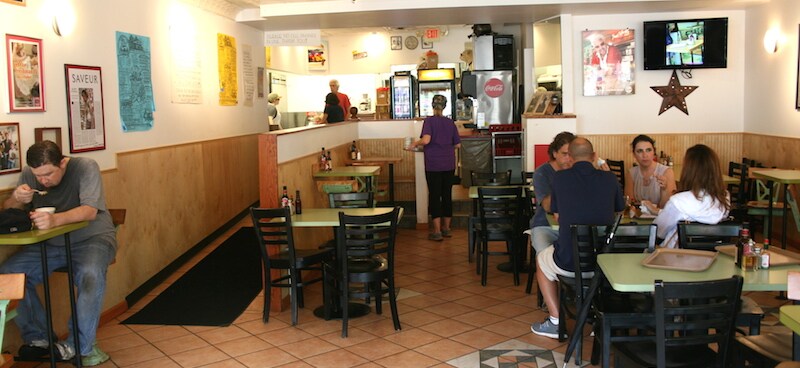 Customers can order their burger as a double and even up to a quintuple. The fresh little burger balls are thrown on the grill and smashed until they are really thin. At 1/10th of a pound, don't worry that the quintuple burger will have you signing up for Overeaters Anonymous. While Krazy Jim's has a good selection of toppings, they don't have any really weird things. With 2-billion options, I was expecting some off-the-wall choices like squid or peanut butter.
We stood in line and watched our burgers being made, we gave our choice of toppings -- but only when asked. Additional choices to accompany the burgers include french fries, fried onion rings and fried vegetables. When the process was complete, we ended up with a custom-made burger that was pretty darn good!
Maggie loved that the burgers were thin, although I'm more inclined to like a big thick juicy burger. Her burger was a triple with feta cheese and assorted toppings on a grilled onion bun.
I had an egg fried for my triple burger along with cheddar cheese on a pumpernickel bun. We both walked away agreeing that both were
really good
hamburgers. The fried items were good, especially the fried onion rings. They only had a light coating, which meant you could actually taste the onion and not just the breading.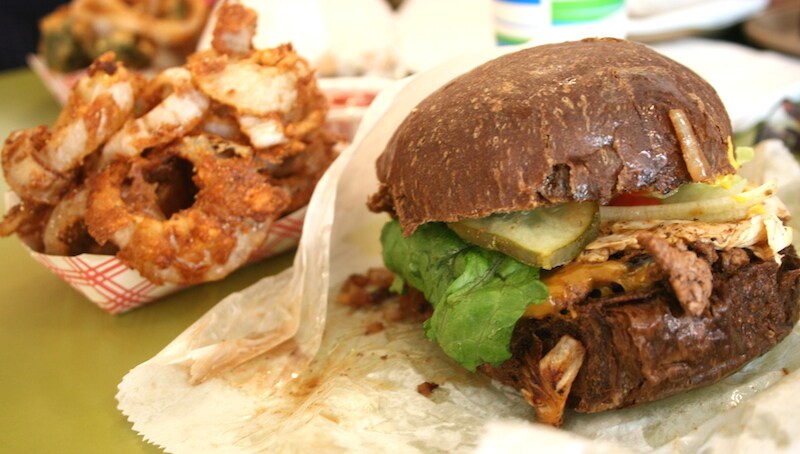 It was a fun location, in a vibrant city with darn good food. Not sure if the burger etiquette is enforced more during their busy times, but the food was certainly worth the hassle. And let's face it -- that's really part of the fun! Who wouldn't love to see if they could survive ordering from the Soup (err, Burger?) Nazi? Or will it be,
"No burger for you -- come back, one year!"