Drive into Ypsilanti and just listen. Listen to the wailing howl of the
Amtrak
train. Then just follow your ears. Because about ten feet from the rails, you'll find a college-town culinary tradition. Just to the side of the tracks is
Sidetrack Bar and Grill
- another of the top 22 burgers identified by
Thrillist
as one of the best in Michigan.
This is the second burger joint we've visited that has also received recognition by
GQ Magazine
as one of the top burgers in America. It also carries a long list of other credentials that range from local awards to national kudos.
It took only one bite of Sidetrack's burger to understand the accolades -- but while you're waiting for your food to arrive, you have to stop and enjoy the atmosphere of this place. True to its name, it carries a railroad theme to its core. It's warm and festive at the same time. Yes, there is a moose on the wall and we can assume it was the victim of some train in a remote Upper Peninsula location. The railroad theme is prevalent from the moment you first walk in the door and sit down. It creates a fun atmosphere that certainly takes me back to my childhood that was filled with model trains in our family basement.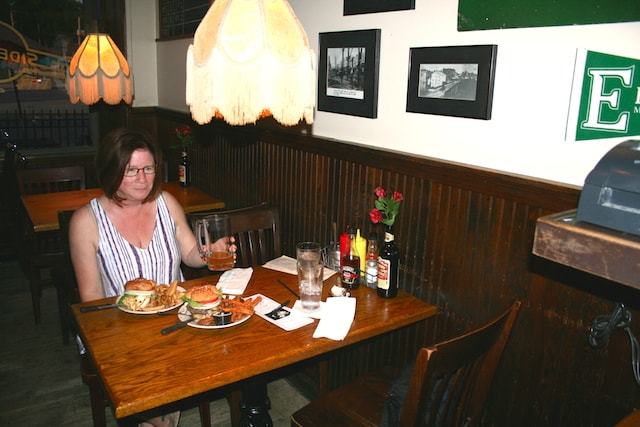 The adult beverage options are plentiful with a wide variety of 36 brews on tap. They range from local microbrews to well known big brands. We went with a
Hacker Pschorr,
which was different but very good.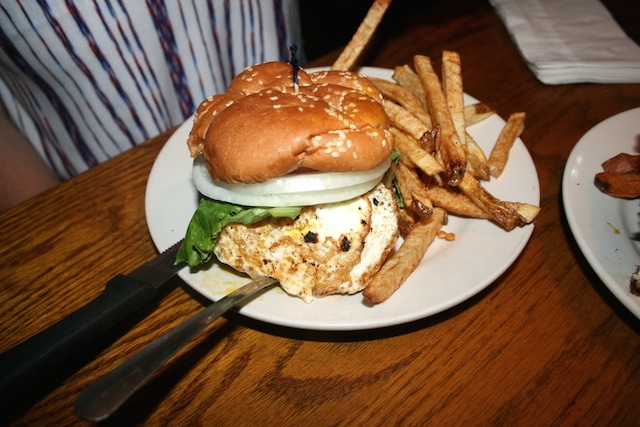 The food was remarkable. The Sidetrack team needed to change local meat suppliers when their source recently closed, but continue to buy local beef and grind it fresh daily. Their "Famous Burger" is 1/3 pound, topped with two slices of cheese, and Maggie and I both had ours topped off with an egg. When we tasted the burger, all the ingredients were nothing unique by themselves, but put together, they were moist, flavorful and everything you'd hope for in a great burger!
The side items of french fries and sweet potato fries really topped off the meal. The sweet potatoes came with a "horsey" dipping sauce that had us asking for more. It added some zing to an already wonderful meal.
Now that we have a few of these top 22 burgers checked off our list, it becomes easier to identify those that really stand out. This burger really stands out! It makes me hungry for the next stop on our journey and hoping this one can be topped.