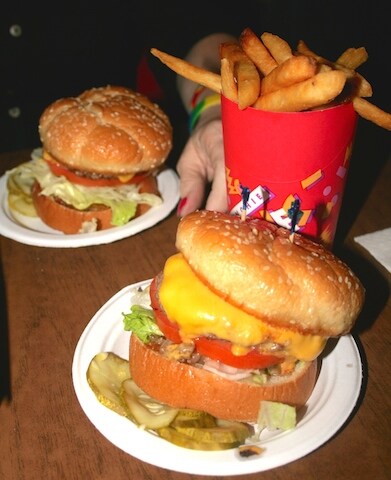 Jen asked which places are on the list of the top
22 burgers in Michigan
, according to Thrillist, which serve as the inspiration for our Mr. Goodburger quest. According to the list, the best burgers are centered mostly around the Detroit region. There are three in the Upper Peninsula, two in northern-lower Michigan and a few scattered around the state. Here are all the places named on the list with their locations:
Detroit -
Bronx Bar
Cutter's Bar & Grill
Motz's Burgers
Roast
Ann Arbor -
Blimpy Burger
Bridgewater -
Bridgewater Bank Tavern
St. Ignace - Clyde's Drive In
Dearborn -
Falls Sports Lounge
Miller's Bar
Mt. Clemens -
Frank's Eastside Tavern
Menominee -
Jozwiak's Bar & Grill
Decatur -
Laura's Little Burger Joint
New Buffalo -
Redamak's
Royal Oak -
Red Coat Tavern
Milan -
Roy's BBQ N Burgers
Jackson -
Schlenkers Sandwich Shop
Ypsilanti -
Sidetrack Bar & Grill
Grayling -
Spike's Keg O Nails
Grand Rapids -
Stella's Lounge
Lewiston -
Talley's Log Cabin Bar
Flint -
The Torch Bar & Grill
Sault Ste. Marie -
West Pier Drive In
What do you think? Did Thrillist get it right? Which places should we add to our list?