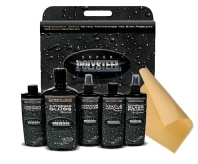 Keep your vehicle looking showroom new with Super Polysteel.
Super Polysteel? Advanced Formula System will keep your car looking its best, inside and out, for years to come. Super Polysteel acts as a barrier between your vehicle's exterior/interior finishes and the harmful effects of fading, spills and sun. Should something happen to the exterior of your vehicle due to environmental conditions or the interior of your vehicle due to stains, spills, or fading, this warranty will pay to have it professionally cleaned, buffed, repainted or replaced if it cannot be returned to its original condition.
See specific warranties for details.
Protection Packages
Choose from three levels of superior protection:
Includes >


Paint Protection:


Fading

Chalking

Loss of Gloss

Acid Rain

Tree Sap

Bird Droppings

Love Bugs


Fabric & Vinyl / Leather:


Stains / Food

Stains / Drink

Stains / Oil-Based





























Super Polysteel GOLD




Includes >


Paint Protection:


Fading

Chalking

Loss of Gloss

Acid Rain

Tree Sap

Bird Droppings

Love Bugs

Industrial Fallout

All Insects

Water Spotting

Road Salt


Fabric & Vinyl / Leather:


Stains / Food

Stains / Drink

Stains / Oil-Based

Fading

Chewing Gum

Loose Seam Stitches

Ink

Dye

Lipstick

Makeup

Crayons

Urine

Vomit

Punctures less than 1/4" *

Rips & tears less than 1" *




*Applies to vinyl and leather only. See actual guarantees for limitations and restrictions.










Super Polysteel PLATINUM




Includes >


Paint Protection:


Fading

Chalking

Loss of Gloss

Acid Rain

Tree Sap

Bird Droppings

Love Bugs

Industrial Fallout

All Insects

Water Spotting

Road Salt




Fabric & Vinyl / Leather:

Stains / Food

Stains / Drink

Stains / Oil-Based

Fading

Chewing Gum

Loose Seam Stitches

Ink

Dye

Lipstick

Makeup

Crayons

Urine

Vomit

Punctures less than 1/4" *

Rips & tears less than 1" *




Extra Protection:

Minor Door Ding:


5 Door Dings up to $250,

$50 per occurrence


Rental Car Allowance:


Up to 5 days rental, $50 per day / max of $250


Protection Against Burns:


Burns the size of a typical cigarette burn